Main content starts here, tab to start navigating
The World Famous Bob Armstrong Dip
One day, Bob Armstrong, a longtime politician who had been Land Commissioner of Texas, walked into the kitchen. "Little Matt," he said, "gimme something different for an appetizer ... something not on the menu"
I replied, "Go sit down, it's on its way." I grabbed whatever jumped into my hands. I threw some taco meat in the bottom of a bowl, and I threw in guacamole and sour cream. Then I made some chile con queso, poured it over the top and put it all in the oven.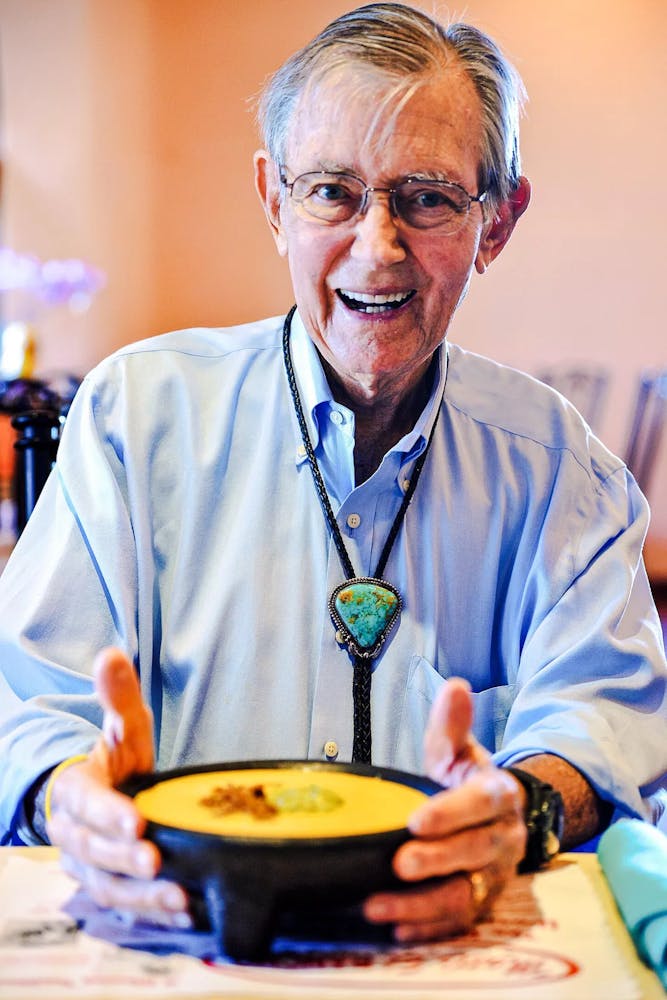 The waitress later told me when she took it out to him, Mr. Armstrong muttered, "That ain't nothing but a bowl of queso." Then he stuck his spoon in there and saw guacamole, sour cream and some beef. He hushed up for a while and started eating. Then his eyes got as big as saucers.
I had the next day off, so I went fishing. Customers kept coming in to El Rancho and ordering "That Bob Armstrong Dip that's not on the menu," but nobody at the restaurant had any idea what the clamor was all about. I got in trouble, and I wasn't even there.
What we didn't realize was Mr. Armstrong had gone back to the State Capitol after lunch that day and told everybody about this amazing appetizer he'd had. When I went to work the following day, the orders kept coming in. I barely remembered the recipe because I'd simply been throwing whatever was nearby in the bowl.